CASTLE D'ARCO
Bishop takes Rook at Northern Italy Medieval Castle
Clinging to a rock cliff above the Northern Italian town of Arco, a stone defense bastion, the color of the rocky precipice from which it rises dominates the old town center below. Arco lies just north of Lake Garda in the lower Dolomites on the road from Trento to Riva Del Garda (see Lake Garda). The early records of the Castle Arco which stand guard over the Sarca River plain are sketchy, with the first construction going back to the 10th Century. The present castle became the residence of the familia d'Arco in the 12th Century and the fortifications extended and reinforced through the turbulent and bellicose struggles of this contested region throughout the middle ages until the1400's when the feudal lords of the castle decided to move to more comfortable lodgings in the medieval town below.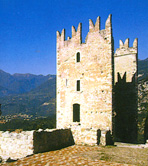 Following the age of the Renaissance in the Trentino region (see Castello del Buonconsigio) and the time of the family poet, Nicolo a'Arco, the Archduke Ferdinand had the castle occupied in 1614 which began the fortress's decline culmination in its bombardment by General Vendome in the French invasion of the region in 1703. In the late 1800's under the Hapsburgs, the Austrian empire which ruled the Italian North ended the feudal privileges of the Earls of Arco and auctioned off their family assets.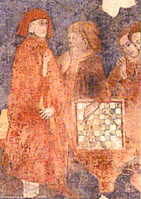 Inside the towering defensive walls, you'll find the open space once used as jousting lists, remains of the early water system, the "tailor's room", bread ovens and the remains of the old kitchen. The castle most importantly contains a well preserved cycle of medieval art frescoes depicting court games of the time, dating to about 1380. Look for the chess board in the medieval bishop's hand and calculate your own move to game that's been in progress for 600 years!
To visit the Castel d'Arco, parking can be found in the central square of village below. Follow the path along the old walls of the city after visiting the Arco city hall for open times and details. A guided tour of the castles of Garda Trentino can be arranged through the local tourist bureau. © Bargain Travel Europe
Compare best hotel deals in Trentino-Alto Adige
Web Info
Garda Trentino
Other Northern Italy Castles on Bargain Travel Europe
CASTLE BESENO
CASTLE d'AVIO
CASTELLO TOBLINO
Get an Italy Rail Pass
These articles are copyrighted and the sole property of Bargain Travel Europe and WLPV, LLC. and may not be copied or reprinted without permission.
SEE ALSO:

LAGO d'ISEO - HOTEL VILLA KINZICA

MILLE MIGLIA MUSEUM

CASTLES AND TRUFFLES