MURDER AND A MEAL IN THE MOUNTAIN MISTS
Northern Italy's Romantic Castle Toblino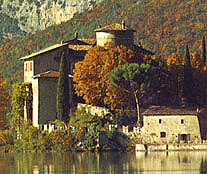 On the road between Rovereto and Riva del Garda, north of Lago Garda (see also Riva Del Garda, Lake Playground), you come to a round-turreted castle on the small and beautiful Lake Toblino, nestled in a narrow deep valley between the Dolomite cliffs. Originally a pre-historic camp and then a Roman site, the grounds were established in the pre-medieval times as a lake fortress, and the current form is the result of a 16th century construction, creating one of the most romantic castles in the Trentino region of Northern Italy. There is a stone in the castle's portico with an inscription stating a temple was located here in the 3rd Century dedicated to the "Worship of the Fates". The castle was expropriated by the Church of Trento in 1459 and Cardinal Bernardo Clesio had it rebuilt in the Renaissance style. In 1703 the Italian Castel became the target of French General Vendôme's conquest of the Sarca valley (see Castle Beseno).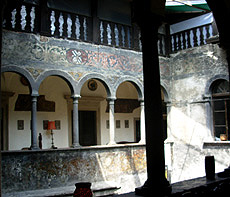 In 1848 when the Italians ruling Trentino were defeated by the Austro-Hungarians, this Italian storybook castle in the Dolomite Mountains became the property of the Wolkenstein family. The foggy mists which rise off the lake have invoked centuries of romantic and dark tragic legends, chiefly sagas of forbidden love and the poisoning of the beautiful Claudia Particelli by the Bishop of Trento to cover his illicit affair, and other stories of gold treasure hidden from the French invaders in tunnels under the lake. Even Benito Mussolino (who met his own dark fate not far from here) apparently wrote a serialized novel about the murder mystery surrounding the castle.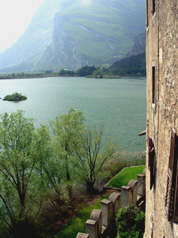 Resting on a lakeside perch just off the curving mountain road, stopping for a lunch while on a wine tasting trip through the Trentino wine region on the lower terrace provides a stunning view of the silvery lake waters. If staying in the area, the main castle hosts a popular excellent restaurant offering elegant dining in renaissance splendor in the halls decorated by the some of the same 15th century artists who frescoed the ceilings of Castle Buonconsiglio in nearby Trento. The cellars at Toblino offers a variety of local wines and every April the castle hosts the Nosiola Wine Festival (see Wine Roads of Trentino) © Bargain Travel Europe
Find best hotel deals in Trentino-Alto Adige on TripAdvisor
Get an Italy Rail Pass
Web Info
Castel Toblino Restaurant
Other North Italy Castles see
CASTELLO BUONCONSIGLIO
CASTELLO di AVIO
CASTLE ARCO
These articles are copyrighted and the sole property of Bargain Travel Europe and WLPV, LLC. and may not be copied or reprinted without permission.
SEE ALSO:
BAROQUE ETTAL BASILICA BAVARIA