UNIQUE ITALIAN FLAVORS - CUISINE & CULTURE
Italy Tours with Intrepid Travel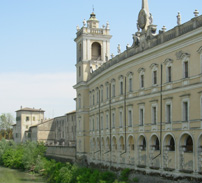 What do they make in Modena, Italy besides Ferraris and when is fermented grape aged for 12 years not wine? Answer. Balsalmic vinegar. You can get Italian Balsalmic vinegar in your local food grocery store and some of it actually comes from Modena, but most is manufactured in bulk. To try the real stuff, made in an exclusive long aging process, you have to travel to the flat plains of Italy between Parma and Bologna, principally around Modena and Reggio Emilia where for centuries since a monk came up with the process, artisans have boiled left-over grape pressings to a dark brown syrup, aged in oaken casks, reduced and aged again in kegs made of cherry wood, ash, mulberry and juniper that give the elixir its unique flavor.
Intrepid Travel winner of the 2006 Best Tour Operator Award for Responsible Tourism offers a 10 day Food Tour of Italy for lovers of gourmet food and wine with the flavors of Italy. Starting in Rome with an exploration of the familiar sights of the city and a chance to sample the cuisine a la Roma, the tour moves to the medieval town of Perugia in Umbria for sampling the local wine and food specialties of the rolling hills of central Italy. Then to Modena, home of Ferrari and vinegar, with trips to Bologna with its well-known sauce a la Bolognaise and a visit to a family run "aceteria", for sampling the true Balsamic Vinegar aged in the eaves of the family home, and a chance to stock up for your own home cooking. On to Piedmont in the north for a chance to taste one of the world's best delicacies, truffles, dug from the hills by specially trained sniffing hounds, and accompanied by the wine tasting in Castagnole, known for its sparkling white and Barbera and Barolo red wines. Last stop is Florence (Firenze) in the heart of Tuscany for its restaurants with Tuscan flavors, cafes and magnificent art.
Intrepid Travel Tours
Intrepid Travel is a tour operator based in Australia which won the Best Tour Operator Award in the Responsible Tourism Awards in 2006. They specialize in tours with small groups, so the tour experience feels like traveling with a group of friends, with a flexible guided structure allowing as much independent exploration as possible and easy on the budget. Their tours focus on immersing the traveler in the local culture with an emphasis on one-to-one exchanges with local people, foods and traditions, and travel which respects and benefits the destinations they visit. Intrepid Travel offers tours grouped into styles to fit the individual traveler, Original, Basix (best for budget travel), Comfort, Family focused travel, Active for the adventurous, and Independent for the true individualist. Their philosophy is small groups with an expert leader, local transportation and character-filled accommodations and true value for your travel budget.

The "Taste of Italy" tour is about $1,900 US, not including airfare. For a little shorter Italy trip that focuses on Italian wine tasting and food they also offer an 8 day Wine Tasting Tour of Umbria with stops in Rome and Venice for about $1,200 US.

For a little longer Italy trip the original "Essence of Italy" Tour is 21 days from Rome to Florence, Lucca and Pisa in Tuscany, Piedmont and the Italian lakes north of Milan, Venice and Assisi in Umbria.

Other Italy Tours

A Week in Tuscany Tour from Sienna to Florence, Lucca and Pisa from the Ponte Vecchio to the leaning tower.

8 days "Active" hiking and biking Tour of Tuscany from the coast of Cinque Terre to Lucca.

9 days along the Amalfi Coast Tour, Rome, Naples to Pompeii and the Island of Capri

or 9 days of history and culture Tour of Sicily from Catania to Palermo, Agrigento and Syracuse.
Bargain Travel Europe is not a travel agency. These tours are presented as information. Please carefully consider the terms of any tour operator before choosing. © Bargain Travel Europe
These articles are copyrighted and the sole property of Bargain Travel Europe and WLPV, LLC. and may not be copied or reprinted without permission.
Web
Intrepid Travel
Find best hotel and vacation deals in Emilia-Romagna on TripAdvisor
Other Italy destination Articles
Other Food and Wine Travel Articles
SEE ALSO:

TOURS OF SPAIN
Intrepid Andalucia and Moorish Spain

INTREPID FAMILY TRAVEL
Italy, Spain and Croatia

WARM NIGHTS ON THE BAY OF THE SUN
Laigueglia - Romantic Hideway on the Italian Riviera

SUN, SEA AND ANCIENT CULTURE
Learn Italian in Italy's Puglia Region