KNARESBOROUGH CASTLE RUINS
Plantagenet History near Harrogate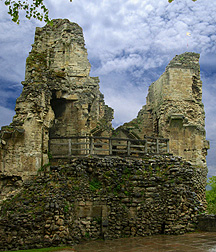 Somewhat forgotten as a castle ruin to visit, the few stone structures left at Knaresborough in North Yorkshire near Harrogate hold the fascination of some of England's great power struggles of the Plantagenet age of the 13th and 14th Centuries, and a played significant part in the Civil War of Oliver Cromwell. The few structures remaining of the once great castle situated on a cliff over the River Nidd which controlled much of the surrounding Knaresborough forest are the "King's Tower", some fragments of once mighty walls, the "Sallyport", a deep escape tunnel from the center of the castle complex to the forest outside the walls, and the deep moat.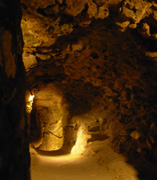 The Knaresborough Forest was a favorite hunting ground of the English Kings, King John of Robinhood and Magna Carta fame (or ignominy) often resided. Edward III who had given the castle to his Queen Philippa as part of her wedding endowment was nearly killed by a boar while hunting nearby (see Ripley Castle and Boars Head Inn). The castle was also a popular refuge for the hunted. Hugh de Moreville, one of the assassins of Thomas a Becket hid out here, as well as King Edward II, who held up in the strong walls of the castle as his "favorite" Piers Gaveston was besieged in nearby Scarborough Castle.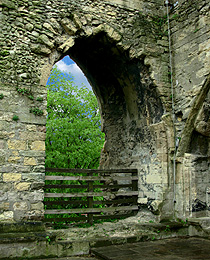 Under Edward III and Queen Philippa the castle would see its great days as a royal court. The castle at Knaresborough has been a possession of the English Crown for almost a thousand years. It is still a property of the Queen as part of the Duchy of Lancaster. Its role as royal fortress also brought about its demise. The castle supported the royalist cause in the English Civil War. After the Parlementary victory, Cromwell ordered its destruction, paying the local townspeople a penny a stone to take it apart. The Kings Tower which remains today was left to serve as a jail.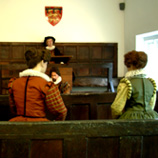 While many other castles still existing have gone through changes and reconstructions in later periods, or were perhaps visited once or twice by a King on his way to somewhere else, at Knaresborough it is possible to get a true glimpse of royal court life from the middle-ages. The stones where great English Kings and Queens most certainly actually stood and sat during the many festive court ceremonies are laid bare. The castle also has a Tudor era courthouse and small museum with a guide who will fill you in on the castle history. © Bargain Travel Europe
Find the best travel deals in North Yorkshire at TripAdvisor
Web Info
Knaresborough Castle
These articles are copyrighted and the sole property of Bargain Travel Europe and WLPV, LLC. and may not be copied or reprinted without permission.
See Also:
FROM TRAITOR'S GATE TO MORTIMER'S HOLE

STAPLETON'S CHANTRY BED & BREAKFAST

BLENHEIM PALACE - CHURCHILL AND PLANTAGENET

ROBIN HOOD'S MAJOR OAK OF SHERWOOD FOREST