CASTELLO DEL BUONCONSIGLIO - TRENT0
Renaissance Stone and Art - Northern Italy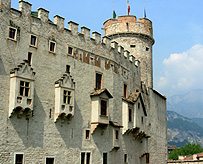 For lovers of art and architecture, watching over the city of Trento in Northern Italy's upper Adige valley is the Castello del Buonconsiglio which is more of a city itself than a castle. It began its long history as a collection buildings along the walls of the thirteenth century town and served as the residence of the princely Bishops who ruled this northern Italian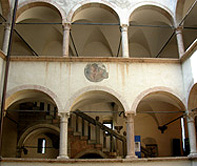 city below the Dolomites and has become over time a magnificent palace of art. The present appearance of the Castelvecchio (Old Castle) built around the round Augustus Tower on top of the rock cliff is the result of the reconstruction carried out under Prince-Bishop Johannes in the fifteen century, who commissioned Venetian maestros to erect the internal courtyard with overlapping arcades and the great Gothic-Venetian mullioned façade window.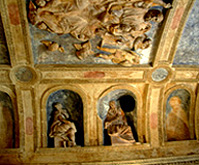 The castle boasts excellent examples of art of historic periods from the internationally recognized gothic fresco the "Cycle of the Months" inside the tower, to the Renaissance masterpieces of the Italian Master Romanino which decorate much of the castle. The hall cielings of staired Renaissance walks overlooking the Venetian style gardens rival Florence and Rome. Buonconsiglio Castle became the official Art Museum of the autonomous provice of Trentino in 1973 and is the main center for the other historic fortresses under provincial administration - Castel Beseno, Castel Stenico and Castel Thun in the surrounding region.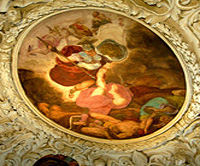 The art museum presents a major exhibition of the renaissance art of Girolamo Romanino, the painter responsible for the frescos which adorn the walls. Romanino lived here in 1531-32, working on decorations for the new Renaissance residence then known as the "Magno Palazzo", for the Prince-Bishop Cardinal Bernardo Cles. While Romanino's frescos will be its centerpiece, the exhibition will also bring many other of his works to Trento from museums and private collections across Europe. (See Brescia Castle Art and Armor). © Bargain Travel Europe
Compare best hotel deals in Trentino-Alto Adige on TripAdvisor
Web Info
Castello del Buonconsiglio
Other Northern Italy Castles:
Castle Beseno
Castle d'Arco
Castle d'Avio
Castle Toblino
Get an Italy Rail Pass
These articles are copyrighted and the sole property of Bargain Travel Europe and WLPV, LLC. and may not be copied or reprinted without permission.

SEE ALSO:
MILAN - A BIT OF DISNEYLAND IN OLD EUROPE?

LEARN ITALIAN IN PUGLIA
GRAND HOTEL VILLA BALBI SESTRI LEVANTE

COLLECTIONS OF THE LOUVRE