HISTORIC CIRCLE TOUR WEST OF LONDON
The Busman's Tour Southwest England, but take a car.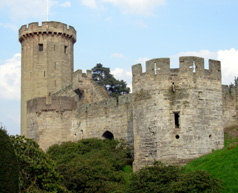 Here's a suggestion for a sample historic tour swing though unique destinations from Birmingham to Dover. Driving on the right hand side may be a necessity, though. Either starting and ending in London, or fly into Birmingham on a discount airline like Ryanair or BMI and out again from Dover, or back to London. Start just north of Birmingham in Staffordshire at
Weston Park
, a magnificent historic location with 1,000 acres of, woodland, lakes and formal gardens. A visit to the manor at Weston Park provides a masterful collection of paintings, tapestries, porcelain and fine furniture.
Then, head to Tamworth Castle, a dramatic Norman era castle with 15 rooms, said to be haunted by two lady damsel ghosts. Just north of Warwick you'll find Baddesley Clinton, a romantically situated medieval manor house dating back to the 15th century. And the ruins of Kenilworth Castle where Edward II was reportedly murdered. And finally, end your northwest medieval journey at Warwick Castle and the nearby Lord Leycester Hospital, quite popular for weddings, should you be in the mood.

Head south to Stratford-Upon-Avon, the hometown of Shakespeare, visit the thatched cottage childhood home of Will's wife, Anne Hathaway's Cottage. At Shakespeare's Birthplace in Stratford (see also Shakespeare The Stratford Man) walk through the home where the famous author was born and grew up. A museum and display offers a view of the man Shakespeare's life as a child, and includes an exhibition on his work and times. While in Stratford also visit Mary Arden's House & New Place, which have a connection to Shakespeare's history. Or catch a play from the Royal Shakespeare Company next to the meandering river Avon. The theater is under reconstruction in 2007 but the plays are held in a temporary space. If you feel like staying in a baronial manor that was the setting for a famous spooky movie, try a night at Ettington Park or a former 13th Century Coaching inn hideaway for movie stars in royal Woodstock, The Bear Hotel .

After visiting the Shakespeare place, take time to explore the Cotswolds in Gloucestershire at Painswick Rococo Garden, a unique 18th century garden set in a hidden Cotswold Valley. Head west towards Goodrich Castle, a fortress of red sandstone which is one of the most complete medieval castles in Britain, situated on a rock outcrop with views over the Wye Valley.

Head to the south, back toward London and stop at Blenheim Palace near Oxford, magnificent Boraque architecture and the birthplace of Sir Winston Churchill (see Blenheim Palace). Then head southwest towards Painshill Park, one of the most important 18th century parks in Europe with a Gothic Temple, Crystal Grotto, Hermitage, serpentine lake, and much more.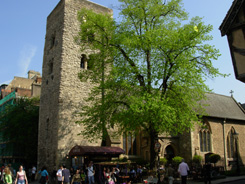 Stop in Oxford for a visit to Trinity College and the Saxon Tower, Oxford's oldest building. Follow the Thames to Henley where the Oxford and Cambridge boys go at it with oars (see Henley-on-Thames). Head back toward London and get your fill of Tudor royal history check out Hampton Court Palace Henry VIII's royal residence. Imagine Anne Boleyn running through the gardens, trying to keep her head. The palace offers costumed guides, extensive gardens, parkland, and a maze.

Next visit Eltham Palace, the early childhood home of Henry VIII, now reconstructed as a masterpiece of art deco design recalling the glamour and dash of the 1930's. Stay in the historic Haunted Littlecote House in Berkshire where Henry VIII met Jane Seymour. After a stop in London, travel out to Leeds Castle, said by some to be the 'loveliest castle in the world.' There are extensive gardens and parkland and a moat around the castle. Stop at Stonehenge to contemplate time and then wind down to towards the coast and end your circle tour with a visit to Dover Castle, standing over the white cliffs, with its Secret Wartime Tunnels Museum, deep beneath the cliffs see where soldiers were billeted during World War II through the blitz and the invasion of Normandy. © Bargain Travel Europe
Find best hotel and vacation deals in London on TripAdvisor
These articles are copyrighted and the sole property of Bargain Travel Europe and WLPV, LLC. and may not be copied or reprinted without permission.
Get a Britrail or Great British Heritage Pass from RailEurope.
See also:

DIDCOT RAILWAY IN OXFORDSHIRE

MARITIME MUSEUM AND ROYAL OBSERVATORY

TOWER OF LONDON

THE HITCHCOCK HOUSE - LONDON