SPA-FRANCORCHAMPS RACETRACK MUSEUM
Famous Belgian Circuit History at Abbey Stavelot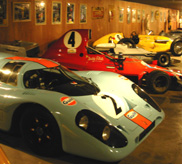 One of Formula One Grand Prix's most famous and legendary racing circuits, Spa-Francorchamps cuts a swath of macadam through the thick forests of the Ardennes in Eastern Belgium. Originally, since first conceived in the 1920's the racing track at Spa ran on narrow public roads between the Belgium towns of Francorchamps, Malmedy and Stavelot. As racing technology matured the old country road circuit was transformed into a modern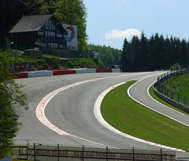 high-performance racing facility which continues to host one of the F1 calendar's greatest races, the Belgian Grand Prix, known for its thrilling over-taking, late season rain and notorious crashes. The track at Spa is also known for one of auto racing's most distinctive and famous curves the "Eau Rouge", a steep uphill blind sweeping curve taken at full throttle speed. The track hosts a number of race events for cars and motorcycles throughout the racing season and is home to three racing schools.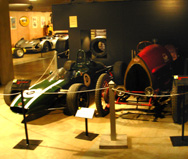 For the casual tourist or enthusiast interested in car racing and the history of the famous circuit, but not attending a race, the Spa-Francorchamps Racetrack Museum is not located at the track but in the nearby town of Stavelot. The circuit itself is rather hard to find in the woods and doesn't really provide activities for visitors, but the museum which features racing cars, a collection of historic motorcycles, documents, photographs of the fascinating history of this renowned circuit is easily found in the historic Abbey of Stavelot in the center of town.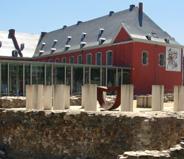 The old Abbey from the 11th Century is now only an excavated foundation, with the current abbey built in the 17th and 18th centuries restored as home to three museums. The Spa Racing Museum is in the lower floors basement, while the cloister halls of the upper building house a museum of the history of the Principality of Stavelot-Malmedy, and an art museum dedicated to local poet Guillaume Apollinaire. The museum also has temporary exhibits, a small tavern and courtyard restaurant among the lavender and a shop where maps of local tourism sites can be obtained. In summer there are concerts and festivals at the Stavelot Abbey. Stavelot and the Spa-Francorchamps race circuit are located a half hour south of Liege. The town of Malmedy and the surrounding area of the Ambleve valley played a major part in the battles of WWII, (see "Battle of the Bulge" Ardennes).

For those looking for a more personal turn at a racing wheel, where many larger European racing circuits have go-cart tracks as part of their facilities (see Magny-Cours and Hockenheim) the Spa-Francorchamps track does not. For karting, the East Belgium Karting Center is an indoor track facility located 20 minutes south in Burg Reuland. © Bargain Travel Europe
Find best hotel and travel deals in The Ardennes
Web Info
Spa-Francorchamps Race Circuit
Abbey Stavelot Museums
These articles are copyrighted and the sole property of Bargain Travel Europe and WLPV, LLC. and may not be copied or reprinted without permission.
SEE ALSO:
DURBUY - HISTORIC TOWN ON THE OURTHE RIVER

WATERLOO BATTLEGROUND MUSEUMS

ROMANTIC MONS

DONINGTON GRAND PRIX RACE CAR COLLECTION
CASTLE FRANCHIMONT - THEUX - LIEGE