CHARLES DICKENS MOVES HOME TO KENT
Literature themed amusement park in Chatham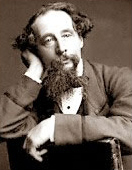 Ok, Charles Dickens may be buried at Westminster Abbey, but his characters and the world he lived in and created lives on in his books and now in a new Dickensian themed amusement attraction in Chatham, Kent DICKENS WORLD. The park is located at Chatham Maritime in Kent, a few miles from the historic town of Rochester. Dickens father was a dockyard worker at the naval docks of Chatham, and young Charles spent his happy childhood days in Kent and Rochester from which he drew many of his experiences and memories for his stories - imagine Pip's discovery of Magwich before his "Great Expectations".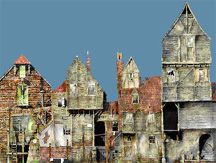 DICKENS WORLD is an indoor experience recreating the England of Dickens' lifetime, a journey into one of the most fascinating periods of British History enduring in imagination brought to life, what the author refered to as 'the best of times and worst of Times'. Victorian London with its sounds and smells and the unique architecture and street scenes vividly depicted in the Dickens' canon, brought to life by a supporting cast of familiar characters (see Charles Dickens Museum London).
Find the best deals on hotels and things to do in Kent

The attraction features a dark boat ride, taking visitors through the depths of London's sewers and atmospheric streets, courtyards, markets and shops, to a magical flight across the roof tops of London. In the Haunted House, Dickens ghosts of Christmases past and Ebenezer Scrooge come back to life. An indoor version of London of the 1800s so realistic its commonly be used as a movie and tv filming location. A children's play area is provided and named Fagin's Den where one supposes pocket-picking might be taught to your little tykes – hopefully not. A 250 seat theater offers a multi-sensory animatronic performance throughout the day and then a live 'supper' show in the evening. And not just for kids, a series of 'burlesque' evening dinner shows provide some 'naughty delights' true to the period of the Victorian Music Hall. A variety of traveling and rotating performances are offered. Cream Tea is served everyday at 3 pm, for a charge with entrance ticket.

The Dickens World courtyard area allows visitors to walk about the complex, taking in the atmosphere of the streets, alleys, courtyards, dockside, shops of old London and dine at a Dickens themed restaurant. Other attractions include: Peggoty's Boat House, The School Room – The Dreaded Disciplines of Victorian Education (sounds a little naughty but mind out of the gutter please), Crime and Punishment and The Old Curiosity Shoppe complete the whole experience.

The builders of Dickens World have worked with the Dickens Fellowship to assure the material presented is based on a credible and factual account of Charles Dickens works and the world in which he lived, with great attention to the authenticity of the time, characters and story lines. A family friendly amusement experience with literary and cultural learning opportunities presented in an entertaining depiction of the times and conditions people experienced living in England in the early 19th century. The Dickens World experience takes about 4 hours to "dwell" and visitors also can take advantage of a number of restaurants, cafes and bars in the surrounding area and visit the nearby Royal Historic Dockyard, a factory outlet shopping mall and a nine-screen Odeon multiplex cinema for additional entertainement.

Dickens World is about one hour by car from London off Junction 3 on the M2 motorway and close to the M20 and M25, a mile from the Chatham and Rochester rail stations, where trains run to London Victoria Station, and the new Eurostar link at Ebsfleet is located 15 minutes away. ©Bargain Travel Europe
Compare the best deals on hotels in London
Discount City Hotels London Hotels best rates

Web Info
Dickens World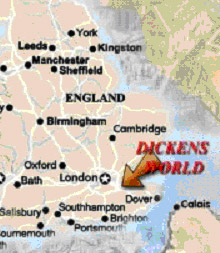 These articles are copyrighted and the sole property of Bargain Travel Europe and WLPV, LLC. and may not be copied or reprinted without permission.
See Also:
SHERLOCK HOLMES MOVIE LOCATIONS TOURING

GREENWICH MARITIME MUSEUM & OBSERVATORY

FAMILY ANCESTRY TRAVEL IN BRITAIN

LONDON'S SHERLOCK HOLMES PUB

SHAKESPEARE AUTHORSHIP MYSTERY
WESTMINSTER ABBEY – POETS CORNER