PLAN A EUROPEAN WEDDING ON A BUDGET
Getting Married in Europe - Destination Wedding Tips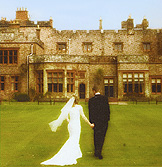 The celebrity magazines and tv shows are full of the reports of big stars weddings in Italian Villas and the castles of European capitals. The idea of saying vows surrounded by the romance of history and thoughts of fairytale princes and princesses dance in the mind. Standing with the man or woman of your dreams to swear eternal love in a 1,000 year old church or medieval castle great hall can offer the memory of a lifetime. But weddings are tough enough to plan at home, while hopping on a plane and inviting 300 of your closest friends to fly to the Cinque Terre of Italy to stand on rocks with crashing waves may or may not make for the ideal memories.
Some things to consider. First do you need to be legally married in a foreign country, or do you just want to say vows in an unforgettable destination? The marriage laws of each country vary somewhat regarding documentation and requirements. The easy solution is to go to your local courthouse, get legally married in civil ceremony, then jet off to your dream destination to say your "real" vows in a symbolic ceremony in the romance of "old" Europe, avoiding all the need for official documents and red tape. This is the most advisable solution, but if "double-dipping" seems to spoil the romance and you really want be married in a legally recognized formal foreign ceremony you need to investigate the legal regulations of any given country.
LEGAL REGULATIONS
You can check with the consulate or national travel bureau of a given country. Things to consider are documents, civil or religious ceremony. Some countries offer civil ceremonies that are internationally recognized, some not. Waiting periods and residency requirements and translations. Same-sex marriages in Europe is a complex patchwork all to itself.
DOCUMENTS NEEDED
Full birth certificates with the names of both parents. Passports. If divoced, you'll need original copies of final divorce papers. If widowed, death certificate of former spouse. If you've had a name change, legal proof of the change. The couple cannot be related by blood, marriage or adoption. You may need official translations of some documents as well and the translated documents may need to be certified or notarized. You may also need proofs of residency (domicile) in your home town.
RESIDENCY AND WAITING PERIODS
Most European countries do not have a residency requirement, but some do. France requires 40 days residency. Spain, 21 days if you're not a Catholic, none if you are. There are advantages to religion, but in Northern European countries like Germany and Sweden, only civil marriages are recognized, so the priest is just extra dressing. England requires 7 days residency, but a 21 day waiting period, Portugal 30 days, Croatia 21 days, Cyprus 3 days, but Gibraltar only 24 hours (it's a small place). The rest of Europe pretty much no residency needed.
LOCATION
Pick a country that has a personal meaning, either family ethnic history, or a love or fascination with a country's culture. You can consider budget in your choice. If you don't have the wallet of a Hollywood movie star, rather than go to high cost big cities like Paris, Rome of London, look at outlying areas off the beaten path. You'll want lodgings for guests that fit the tone you want to set at a reasonable cost that can house your guest list. In some cases you might rent an entire country house or villa rather than hotel rooms as part of a package.
SETTING
Do you want to get married in a wine vineyard or a medieval castle? A monastery or Mediterranean beach at sunset? Many unique historic sites and destinations in Europe, especially private ones and those with hotels specifically cater to weddings as a main part of their business.
England Near london, The Grove Country Estate is a beautiful setting for a wedding. Easier on the budget, there are less familiar castles in the north of England of rich character like Lumley Castle or Langley Castle or haunted Muncaster Castle in the Lake District, the midlands of Warwick with its great castle has the popular medieval wedding venue The Lord Leycester, or the location of a famous ghost movie Ettington Park in the Cotswolds and Berkeley Castle.
Ireland has many castles and unique venues for weddings with its green fields and lush history, Malahide Castle does not have a hotel but you can rent its great hall or Clontarf Castle Hotel both near Dublin, on the west side Glenlo Abbey Hotel in Galway or the glorious Dromoland Castle near Shannon. Get married on the blustery Cliffs of Moher and honeymoon in the Burren or the quiet countryside of Belle Isle in Northern Ireland. In Kilkenny, the beautiful equestrian Mount Juliet.
Italy You can rent an entire villa in Tuscany like the Villa Buonvisi or less well-trod northern Italy on Lago di Garda, the coast of Liguria like Laigueglia, or a castle in Piedmont near Turin.
Germany Wanna be a Damsel at a Rhine River castle? Reichenstein Castle is a very popular spot or up the river a bit the Schonburg Castle Hotel, though it requires more climbing. If you have a Gothic bent, be Frankenstein's Bride at the castle ruins in Castle Frankenstein Darmstadt or the ever popular Heidelberg Castle and honeymoon on the Neckar River.
Switzerland Get hitched at the castle of the romantic poets Chateau Chillon on Lake Geneva or where Mark Twain stayed on beautiful Lake Lucerne at the Park Weggis.
WEDDING PLANNER – TRAVEL CONSULTANT
You can perhaps do all the footwork yourself, but planning long distance requires a whole lot of effort and perhaps a foreign language. It's best to find a wedding planner or wedding travel consultant specific to your country of choice and make contact early in your plans. Many destinations, like castles and hotels which provide wedding services whether they have full packages or not will have a planner on staff or can recommend someone they work with who will have access to local photographers and caterers. There are many destination wedding travel services who either represent properties in a given country or offer all-inclusive wedding packages and will consult with you through all the steps.
BUDGET AND GUESTS
A destination wedding can cost the same or less than at-home weddings if you pare down the guest list from everyone you went to school with to just close family and friends who can travel. Europe is not the cheapest with the exchange rate, but you might be surprised at the savings in the shift in costs, especially if many of your guests live far from you and have to travel anyway. Try to keep your destination wedding to between 12-35 guests, including immediate family, best friends and maybe a co-worker or two in need of an excuse to vacation.
PLAN AHEAD
Send out a "save the date" email as soon as you've confirmed a date and location. You should plan well ahead and let your potential guests know the date and country as soon as possible, keeping in mind that some might have to make vacation plans up to a year in advance.
THE WEDDING DRESS
Have it fitted at home, then wrap it in tissue paper and pack it in a large box. If you check it with your luggage, be sure to label your destination address and phone number clearly, and insure the dress separately. You might want to just ship the dress ahead of time, rather than try to take it with luggage if you can arrange for the local venue to store it for you until you arrive. It might be worth the cost of expedited shipping. You don't want it to arrive 6 weeks after your planned date! Maybe the bridesmaids dresses can go, too.
COMMUNICATE
Set up a website where guests can find answers to their questions without calling the bride and groom. You can match the theme of the website to your invitations. You can provide any your travel or wedding consultant's contact information. And then post the pictures after the deed is done.
ARRIVE EARLY
You should come a little early to make sure the details are all in place. It's not good to show up just in time to find out the palace burned down a month ago. © Bargain Travel Europe
These articles are copyrighted and the sole property of Bargain Travel Europe and WLPV, LLC. and may not be copied or reprinted without permission. Photo Courtesy Muncaster Castle.

SEE ALSO:

PORTO ERCOLE - TUSCANY FISHING VILLAGE

VILLA BALBI - ITALIAN RIVIERA COAST